Talentpreneur Academy
is a step-by-step guide and workbook to help you create a working business based on what you love to do on a daily basis.


Learn how to find and use your talents to power and create your new business, validate your idea, outline your business and sell your products or services.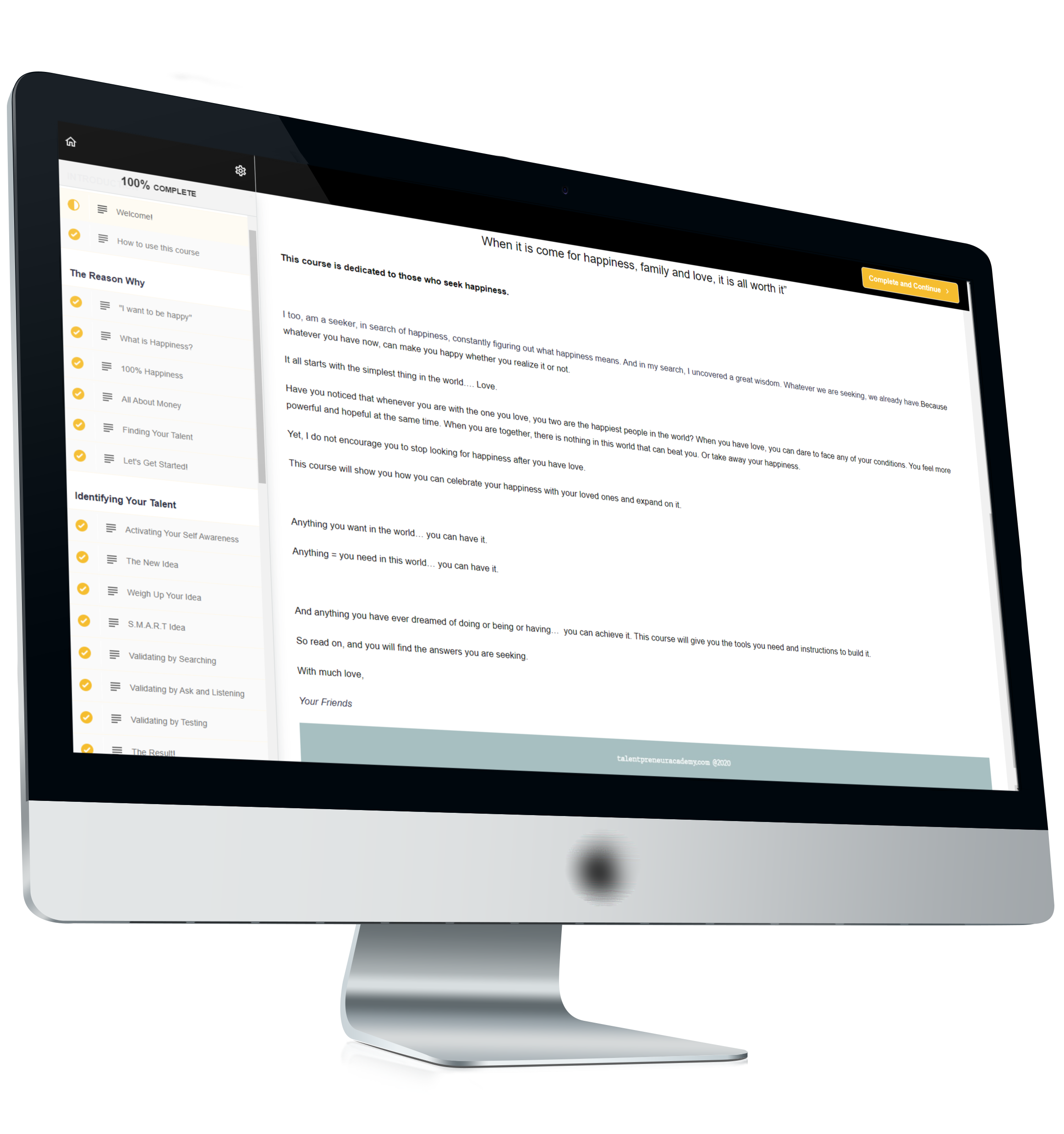 CREATE YOUR PASSION INTO WORKING PROFIT
Talentpreneur Academy was created with you in mind.
We have outlined the easiest way for you to create a new business that will turn a profit in the shortest possible time.
Easy-to-read modules you can read anywhere and anytime.

 Workbook for you to complete and keep a record of every step along the way.

Fundamental knowledge to create any business.
ANYTIME . ANYWHERE.
When you have that itch to turn your idea into a business, and feel lost because you lack the know-how.
Or maybe you have a problem coming up with the idea for your business. And you simply don't have time to figure it all out yourself.
Talentpreneur Academy will help you to organize your thoughts - from identifying and validating your idea to transforming your idea into a business so you can begin to earn income you desire.
Powered with best online course platform Teachable, you can take your course on any device and learn anytime you want.
STEP-BY-STEP GUIDANCE
WORKBOOK
The most effective way to learn is to put your new knowledge and skills into practice. And the worksheets are made for you to put your practice into action.The most effective way to learn is to putting your new knowledge and skills into practice. And the worksheet guidance is made for you to take practice into action.
AS EASY AS 1-2-3
FILL IN WORKSHEET
You can download The Step-by-Step Worksheets and print as many copies as you need of each worksheet.
There is no right or wrong in creating a business.
The point is to take action and then repeat each action over and over again until you find what works with your style and for your market.
By completing the workbook you are also exercising your thinking mind and keeping track of your improvements as you make them.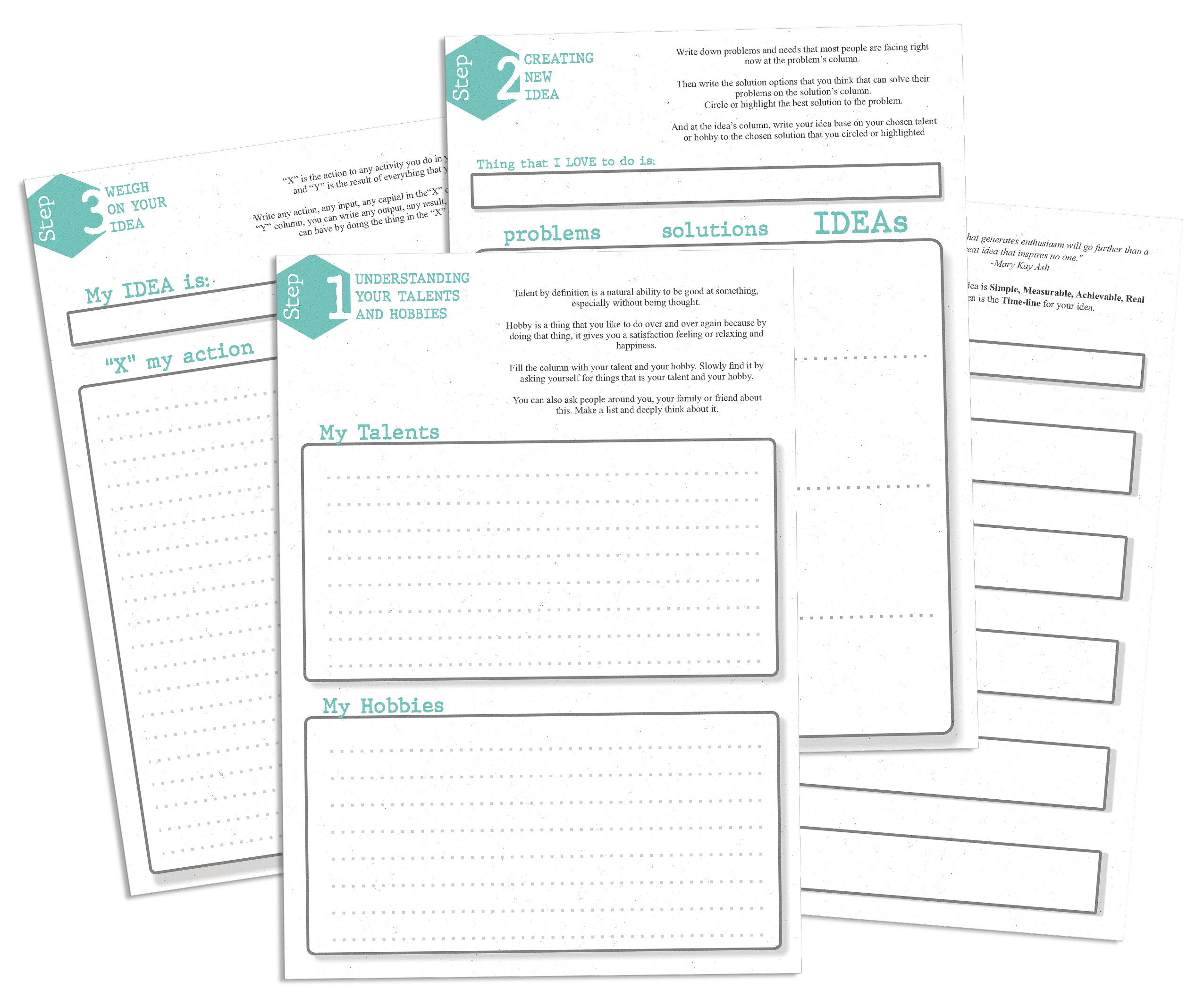 EXCLUSIVE COMMUNITY
Find yourself surrounded by people with the same goal inside our closed and exclusive Faceboook's Group.
Once you are in our circle, you will meet people with the same interest where we are building our own business from scratch. You can discuss your ideas, problems, any business obstacles and grow together inside our healthy community.
FREQUENTLY ASKED QUESTIONS


When does the course start and finish?
Talentpreneur Academy is an online based step-by-step, self-study course that you can take in your own time – anytime you like.
You can take the course at your own pace.
The only deadline is the one you set for yourself – the date you want to start your business!
How long will I have access to the course?
You will have lifetime access to the course as well as all future bonus modules.
What skills will this course teach me?
Talentpreneur Academy is a course that uses your existing talents or your daily hobbies and converts them into a real business through a step-by-step program and workbook. 
Highlights include:
Figuring out your talent/hobby

Validating your business idea

Creating a business plan

Making money from your business… and more!
Will I launch a successful product by the end of the course?
The concept is to guide you to a place where you have the capacity to sell your business idea and make your business work for you. So, although we can't guarantee anyone's success, that is absolutely the intended outcome!
What equipment/tools will I need to complete the course?
Access to the internet, a computer, paper and writing tools, a printer, an open mind and 100% participation.
Will I get access to the full course all at once?
Yes. And we will also send you bonus modules as we create them.  
Can I pay via PayPal?
Yes. On the checkout page under the "Billing Information" section, switch from the Credit Card tab to the PayPal tab.
Choose your country and click "Enrol in Course" to be directed to the PayPal checkout.
I still cannot figure out what business works for me, but I need to make money quickly… What should I do?
We understand that not everyone can come up with a business idea easily.
We also understand that it takes time to turn your idea into a product or service. 
You might lack access to capital or the confidence to move forward. 
Which is why we have created an affiliate program to give you a way to generate create income the moment you purchase this course.
You can use the program to create additional income or generate capital to start your business. 
You can also use the affiliate program to practice your marketing skills while you are still designing and creating your own products or services.
Learn more about our affiliate program inside the course.
Disclaimer
We want to make sure you understand this is not a get rich quick scheme. Results will vary significantly because they are based on your own efforts and the actions you take.
We can educate you and guide you but you will need to do the rest.
We have put in years of effort and have been very fortunate. However not all businesses succeed and this product will not guarantee your success. Always remember that running a business involves risk. Some businesses succeed and some fail.
Please assume that any links leading you to products or services within this course are affiliate links. This means we will receive compensation should you purchase anything via a link in this course. Rest assured, we only promote products or services we have investigated and truly feel will deliver value to you.
Wishing you all the very best! Welcome to Talentpreneur Academy!
See you on the inside.